What brand do you think of when you see this sign?

In 2020 Tesco adopted the sign of a solid yellow circle on a blue background to identify their Clubcard price promotions.
Lidl, who has used a yellow dot ringed in red on a blue background, i.e.,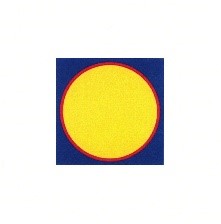 since around 1987 and have a number of trade mark registrations for the mark, was not pleased and consequently filed a court action in the United Kingdom for an injunction to prevent continued use of the mark by Tesco.
This has been the subject of a UK High Court battle between the supermarket giants which started back in 2020 when Lidl accused Tesco of deliberately adopting the sign to take advantage of Lidl's reputation as a discount supermarket effectively seeking to "ride on its coattails".
THE CASE
Lidl claimed their trade mark registrations for the mark were infringed by Tesco's use of their sign.  They believe the use of the yellow circle on a blue background is confusingly similar to their registered trade mark and that there is therefore a likelihood of confusion on the part of the public, which includes the likelihood of association with Lidl's earlier registered trade mark.
Lidl also claimed that the copyright in the sign had been infringed.  Copyright automatically comes into existence upon the creation of a literary or artistic work.
Tesco issued a counterclaim stating that Lidl's trade mark registrations should be declared invalid on the basis that they were filed in bad faith, i.e., that the act of filing the applications fell short of the standards of acceptable commercial behaviour.
The claim to "bad faith" was based on the fact that when filing a trade mark in the UK or EU you must have the intention to use the trade mark as applied for in respect of the goods/services covered by the application.  You cannot file an application for a trade mark simply to stop others from using it.
Without a very good reason as to why use has not been made, a trade mark registration becomes vulnerable to a cancellation action and cannot be enforced if it has not been used for a continuous period of five years.  Some owners, whose trade mark registration may have become vulnerable to such a cancellation action, choose to file a new application, in a frowned upon practice, which has become known as "evergreening".
In this counter-attack Tesco, in essence, accused Lidl of filing a succession of applications for the subject trade mark without any intent to use the mark in order to preserve their rights to the mark.
In June 2022 Lidl applied to have Tesco's counter-claim struck out.  They were initially successful, but that decision was then overturned in November 2022 by the Court of Appeal which decided that the claim of bad faith, upon which the counter-attack was founded, may have some merit and had a reasonable chance of being successful.
Regarding the claim to copyright infringement, Tesco essentially argued that there could be no copyright in such a simple geometric shape which have no artistic merit and since there was no copyright there was nothing to infringe.
THE JUDGMENT
The Judgment was finally issued today with Lidl emerging victorious.  While Justice Joanna Smith agreed with Tesco that some of Lidl's trade mark applications were filed in bad faith, she ultimately found in favour of Lidl on their claims of trade mark infringement, passing off and copyright infringement.  The Court has issued an injunction ordering Tesco to stop using its Clubcard logo.
RIGHT OF APPEAL
This is not the end of the matter and Tesco has already declared its intent to Appeal the decision.  We will keep you updated in the next instalment in the saga between these two household names.
LESSONS TO BE LEARNED
So what can we learn so far?  Firstly, when filing a trade mark application ensure that you have a real intention to use the trade mark in the form in which it is being registered in respect of the goods covered and put it into use within five years of grant of the registration.
Secondly, when adopting a trade mark make sure that you conduct a clearance search to check for any earlier rights for marks which may be similar to your proposed mark which are being used in connection with goods/services which are identical or similar.  You don't want to start using a mark only to have to potentially rebrand.
To obtain advice regarding the protection of those signs which identify your brand why not contact MacLachlan & Donaldson?  We will guide you through the process to secure those signs which your customers trust to lead them back to your goods and services.
Cherrie Stewart