We have been dealing with intellectual property law for more than half a century, and our attorneys have consistently remained at the forefront of the evolving practice of IP, making us the ideal advocates to manage your IP in this fast-changing world.
Our firm is extremely proud of the breadth and high standard of qualifications, experience and dedication of its directors and team members and places great emphasis on effective training.
Our Patent Attorneys are European Patent Attorneys, qualified to practice before the European Patent Office and, include full members of the Chartered Institute of Patent Agents (CIPA), London. The firm's Trade Mark Attorneys, who include members of the Chartered Institute of Trade Mark Agents (CITMA), London, are qualified to practice before the Intellectual Property Offices of Ireland, UK and European Union.
A strong management team supports our attorneys to ensure the firm is fully focused on delivering results for our clients.
Our Team
We have been dealing with intellectual property for nearly half a century and our attorneys have over 150 years of combined expertise, allowing us to respond to every IP challenge in this fast-moving technological age.
Why choose us?
Our experienced and enthusiastic team of professionals are dedicated to providing innovative and cost effective services to our clients, ensuring that their intellectual property is protected and is continually adding value to their business no matter what the field it is in, or the challenges that present themselves.
The modern business world moves faster than ever, and we understand the need our clients have for the most up to date commercial advice that is tailored to meet their specific needs.
We build strong and lasting relationships with our clients, using that intimate knowledge of their businesses to understand and anticipate their commercial needs and deliver focused, customised strategies for each one.
See what our clients say about us here.
The Company
Our firm began on January 1, 1967, when it was founded by Norman MacLachlan, a Chartered Patent Agent and Trade Mark Agent. Three years later he was joined by Frank Donaldson, also a Chartered Patent Agent with years of experience in London. In 1972 they cemented their partnership by officially creating MacLachlan & Donaldson.
Within a decade their partnership had grown to one of the largest Intellectual Property law firms in Ireland with the help of a reputation for delivering efficient and cost effective solutions for their clients. Strong personal relationships with clients combined with zealous professional advocacy have resulted in long standing partnerships.
For almost half a century from 1968, MacLachlan & Donaldson was based in the same historic area of Georgian Dublin that housed the Irish Patents Office for more than 70 years before it relocated in 1998. Situated opposite Merrion Square Park, this area is a hub of legal and professional services in Ireland.
Inspired by our place in the heart in Dublin, surrounded by other legal firms of long standing and just a stone's throw from the Irish Parliament and other hubs of government, we adopted a Georgian door as our logo in 1987. And though the firm went through a rebranding in 2013 as we grew over time, that influence is still reflected in our current logo.
MacLachlan & Donaldson has grown many times over the years, always bringing in new faces with wide ranging expertise. In 1996 the firm acquired the IP practice of Dermot P Cummins & Co. and in 2002 acquired Ansons, one of Northern Ireland's largest IP firms. This enables us to offer our services in all parts of the island of Ireland, particularly useful when businesses so often straddle the border.
In 2010 the firm evolved again, taking on limited company status. The next decade was one of ongoing change, as the firm moved first to new modern offices in Clonskeagh Square, Dublin 14, and then again to the Citywest Business Campus in 2018. Home to over 200 home grown businesses and world spanning companies, this is the perfect place for MacLachlan & Donaldson to continue to grow and thrive.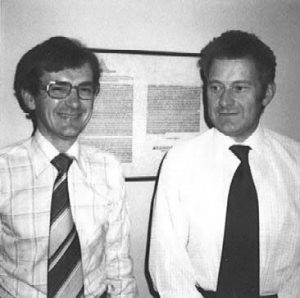 Norman MacLachlan (pictured left) and Frank Donaldson (1928 – 2007) in 1972. The latter retired from the practice in 1987.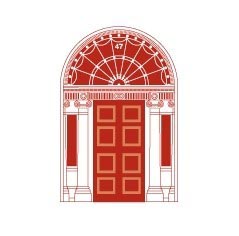 Our previous corporate brand of the Georgian door.
If you would like to arrange a consultation with one of our IP experts please contact us below: